The World's Most Versatile
Modular Controller
Perfect for DJs, VJs, Producers, Lighting Technicians,
Musicians, Video/Photo Editors and More!
Get it on Indiegogo Indemand!
Mine S is a cleverly designed, intuitive modular controller that puts the power to create efficiency in your hands. Using an easy swap-in/swap-out design, you can create the controller that you need to best use the software for your music, light show, visual effect, video editing and more.
Mine S allow users to choose preferred configurations according to their needs instead of being forced to adapt to standard static controllers.
Let your CREATIVITY soar LIVE, in the STUDIO, in OFFICE or anywhere else you need to shine !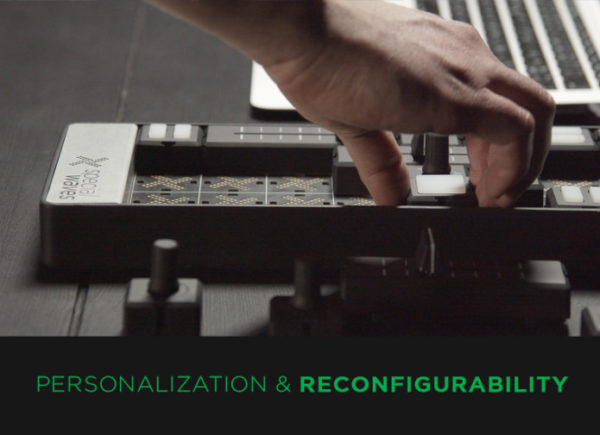 Mine S can accommodate you, controlling lights today, and your VJ set tomorrow!

Many controllers on the market aren't versatile enoug to meet user needs.
With Mine S you don't need to buy new controllers for new tasks, simply reconfigure and you're back to work!
Users ofter require an advanced setup in order to fulfill complex tasks.
Many controllers on the market are hard to personalize because they are pre-programmed to work in only one way, but often users need different workflow features compared to the one installed by the manufacturer.
With Mine S you can quickly and efficently configure each module and its functions. For example, you can set upthe brightness and colors of the LEDs, the speed and incremental value of the encoders, and the curve of action of the slider and pots!
Mine S can communicate via different protocols:MIDI, HID, OSC, DMX, and the Art-net protocol. You can even control more than one software and/or protocol at a time for maximum flexibility and fluid transition from one task to the next.
Mine S comes with its own proprietary, intuitive Controller Editor software, which is compatible with most music, VJing, laser show, lighting software, and video/photo editing programs, providing for advanced control of connected modules and protocols.
With Mine S you can create a unique control surfacethat matches perfectly with the layout of the software are you using, eliminating user error that comes from switching back and forth from device to screen!
The modules are hot-swappable, meaning users can remove and reinsert modules on-the-go, even during a live performance! These are the 6 modules available now, but we are designing new modules required by you!
Less than 1 kg / 2.2 lbs (modules included)
1 x USB type B (High-retention)
1 x DIN MIDI IN
1 x DIN MIDI OUT
USB cable (included)
Power supply 5V 3A (included, not required in all configuration)
Power switch
MIDI, OSC, HID, DMX, Art-Net
Case accommodates up to 32 modules
Made with high-end plastic enclosure and brushed aluminium covers
2 Extraction keys for module removal
Extraction keys slot
Kensington security slot